The Registrar General of the Corporate Affairs Commission (CAC), Alhaji Garba Abubakar is leading Nigerian delegation to the 8th Open Government Partnership (OGP) Global Summit commenced today in Tallinn, Estonia.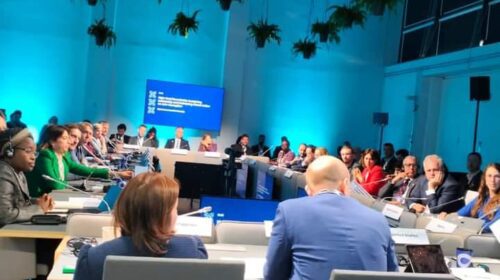 The 2023 OGP Summit focused on open government in the digital age, the potential of technology to make governance and policy-making more transparent and accountable, and the preservation of democracy.
It brings together heads of state and government, representatives of civil society, and policymakers around the world annually to promote principles of transparency and good governance globally.
In an address at the occasion, the Leader of Nigeria's Delegation, who is also the State Actors Acting Co-Chairman, the Registrar-General/CEO CAC, Alhaji Garba Abubakar, intimated the gathering on reforms being implemented by the Government of Nigeria in promoting the ideals of good governance.
Earlier, the CEO of Open Government Partnership (OGP) International, Mr. Sanjay Pradhan, identified Nigeria as one of the countries advancing beneficial ownership transparency in today's world.
Sanjay Pradhan therefore commended Nigeria for launching the Public Register of Beneficial Owners of Entities, the first to be deployed in line with the open data standard in Africa, and also for sustaining citizen dialogue as a way of strengthening the civic space.
The OGP is made up of 75 national and 104 local governments, plus thousands of civil society groups, working to deliver the promise of democracy beyond the ballot box through the Open Government Partnership.
CAC News reports that Estonia's transparent (e)governance and close cooperation with civil society stand out in the world; their journey has offered valuable experience to pass on, hence its selection as this year's Global OGP Summit host.
The event is taking place in the Telliskivi Creative Area, located at Telliskivi 60A, Tallinn 10412, in a variety of indoor and outdoor spaces.
–