I looked out for a particular story I witnessed personally inside the Bida Prisons on the social media, it's apparent that it didn't trend, for if it had I would have seen it or someone might have said something about it, certainly the new media handlers of the Etsu Nupe are sleeping on duty. What's my own self? Simple, it's a story of compassion worth sharing to the world and our phones shouldn't be use to call and share pictures but to tell of stories of love and compassion we had witness for sake of promoting humanity, here is how it goes.
I happen to lead the BTV HAUSA crew to the Etsu Nupe's 20th years anniversary on the throne and Birthday.That Monday 13th September, the Etsu Nupe started his Birthday and anniversary celebration with a visit to the Dokodza Prisons Bida. During the presentation of the prisoners to the Etsu Nupe by the Chief Warder, there's this particular case that turns our head and made us pay attention including the Etsu.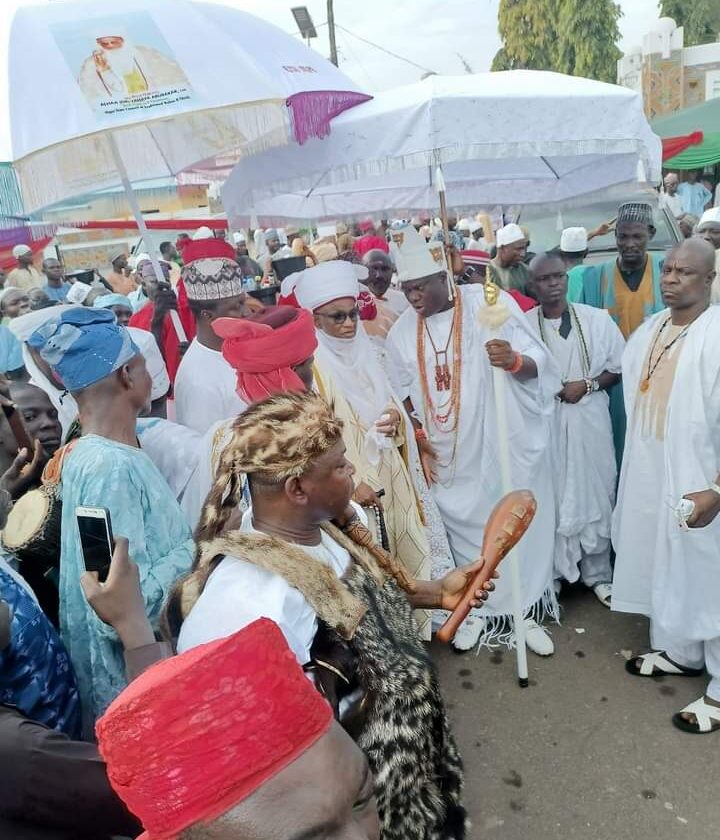 In my years of dealing and coming round the Etsu Nupe never have I seen him betray the slightest form of emotion but that day, it's visible, you wouldn't have to look for it, the shook was visible, the pain he felt was real, as real as even for those of us present were shook too, in fact tears ran down my cheeks. There's this case of a woman, an in-mate, a convicted prisoner; that isn't the point I am making infact. But she's the only female in that whole prison, lonely, she's the only convicted female prisoner, the only one in the female section. There's only one female warder who comes by morning,8am to open the female prisoner and lock her back by 5pm. The female prisoner could only talk to the female warder in the female section and no one else; they could only talk from 8am to 5pm, after lockup the female prisoner stays lonely in the gigantic female section in her cell until the next day before she could see and talk to anyone else, only the female warder, a female like her she could talk to, imagine the loneliness, imagine the trauma, imagine what happens in the night when probably she has ghostly nightmares, imagine when there's fire out break and the female warder is not available to open the cell, imagine when she has heart attack or asthma attack, imagine when the sex hungry hardened criminals in the male section break into female section to rape her to death in the night, so many things could come to your mind.
Phew! It was really emotional that day, the Etsu Nupe removed his spectacle staired in awe at the female warder and her prisoner who were sitting a distance from the crowd, just the two of them. Mai Nupe shook his head, his mouth agape, he lost words, he froze, he stayed that way for a long time, he probably must have wondered off, until an aide of his whispered something into his ears and he came out of the reverie and replaces the spectacle, afterwards he continued to shake head and node repeatedly. Prisoner was convicted of taking loans from someone and couldn't pay back, she was convicted for 7 years and had spent 2 weeks in that hell already. Her fine was fifty (50k) thousands naira and the amount she took the loan is two hundred and seventy thousands naira (270k) if anyone could come up with both the fine and amount of loan she would be free immediately otherwise she's going to spend 7 years.
The Etsu offered to pay it off immediately and ask that she be brought to his palace to come and take money for a business, same business she failed in, The Etsu's council raised about a million naira for that purpose right there and then. There was also a case of one other boy prisoner who had already spent over a year because he couldn't raise 20 thousand naira fine, he was added to the woman as those to be fried.
This whole story should be much interested in as much as the woman prisoner is not even Nupe, she's a Yoruba resident of Bida. The Etsu in his address admonish the in-mates to reformed their behaviors when they might have finished serving their terms. Altogether the Etsu Nupe paid various fines of other prisoners, I think about 13 or so and donated about twenty bags of grain consisting of rice, corn,beans, garri, 5 gallons of 20 litres cooking oil, sleepers, mattresses, mats , replacement of two sewing machines he earlier donated for skills acquisitions,a live cow and other items.
Update on the woman I won't tell until you all tell me you love me.
Abeg let's tell stories of good deeds please!
Etsu Nupe's Social Media handlers wake-up bikonu,
Jibrin Bala Jibrin Yikangi,a Teacher, Poet and Social Activist,writes from Gbako.