Arole Oduduwa Olofin Adimula, Ooni Adeyeye Enitan Ogunwusi, CFR, Ojaja II, the Ooni of Ife has charged different tiers of government to create enabling environment for private investment in the medical sector, said this will motivate investors and professionals in diaspora to come home to establish world class health facilities in Nigeria.
Speaking on Wednesday, 14th December 2022, while unveiling Omics Diagnostics Limited located at Oyekan Street, Yaba, Lagos during its commissioning ceremony also graced by notable personalities in Nigerian like Prof. Akin Abayomi, Lagos State Commissioner for Health, Hon. Kayode Omiyale, Chairman Yaba Local Government Area, Prof. Babatunde Lawal Salako, Director General, Nigerian Institute of Medical Research (NIMR) and the erudite Professor of Tax, Professor Biola Danni SAN among others in attendance, Ooni Ogunwusi insisted private driven economy remains the only solution to solve Nigeria's economic challenges.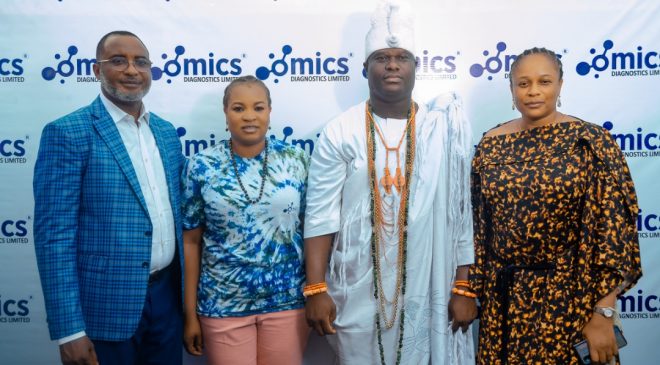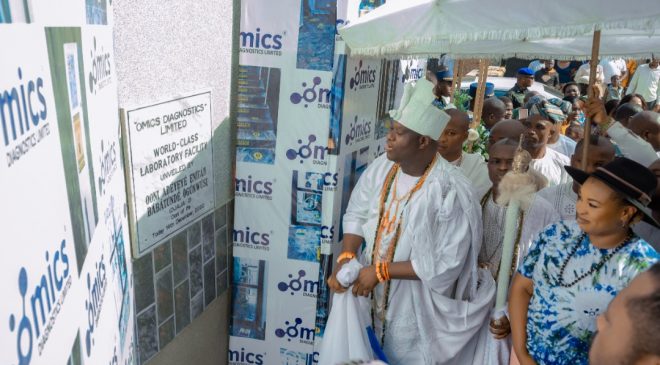 The Co-chairman, National Council of Traditional Rulers of Nigeria (NCTRN) while appreciating the multi-million Naira facility which renders services such as Haematology, Genomics, Biomarker Analysis, Flow Cytometry, Laboratory Work, Sample Testing, Kit Testing, Crime Analysis, Project Research, Toxin Analysis, COVID Test, EQA Testing (Oil and Gas), and Equipment Validation noted that the diagnostic center is another refinement, and game changer in the country's health sector.
"I went there and checked every unit with state of the art equipment for different level of testing, and I must say that it's a very strong and dedicated home grown diagnostic center. One thing that is unique about this diagnostics center is localising it and naming every section after a lot of role models around the Managing Director and owner." Ooni said.
Describing the laboratory as another level in the health sector, Ooni Ogunwusi noted that a lot of Nigerians leave the country to go abroad for testing thinking that diagnostic centers in Nigeria are not reliable, he added that Omics Diagnostics Limited is a complete game changer driven by a private sector led Ogunleye.
"Day in day out, Nigerians go abroad for medical tests thinking that diagnostic centers in Nigeria are not reliable. Different tiers of government in Nigeria from the local, state and federal level, opining that they need to encourage a lot of private medical professionals by propagating and promoting medical tourism in the country." Ooni said.
Further, he described the setting up of the laboratory as a challenge to different tiers of government from the local, state and federal level, opining that they need to encourage a lot of private sector driven investment to the sector by propagating and promoting medical tourism in the country, while encouraging private sector led promoters. He prayed for prosperity for the owner of the laboratory, stated that it was the start of its journey in Nigeria and indeed Africa, as Omics Diagnostics Limited would spring up in all states of Nigeria.
In her opening remark, Princess Adepeju Ogunleye, the Managing Director and Chief Executive Officer of Omics Diagnostics Limited, revealed that the company was built on the shoulder of many people, hence her appreciating them by naming some rooms and units after individuals such as Prince Peter Adetola Ogunleye (her father), Princess Janet Feyisara Ogunleye, Ooni Adeyeye Ogunwusi, Olamide Hameed Sanusi, Ige Oyinda, E. Oliver, Afetonke Olufemi, Emodi Azubike, Erelu Olajumoke Adebola Awodeyi and several others.
Ogunleye, a Medical Laboratory Scientist who holds the opinion that health and humanitarian service are all about affordability, described the uniqueness of the laboratory as the combination of all the worlds leading research and manufacturing companies such as MGI, Thermo Fisher, and Illumina in a one stop. She noted that the laboratory already has world standard equipment, and is partnering with leading countries in Next Generation Sequencing (NGS), the study of Genoms, and would be able to do studies if there is an infection, while stating that it will also be doing researches on World Health Organization (WHO), alerts in a bid to inform the government to make informed policies ahead for the benefit of mankind.
The Giesi Princess from Ile-Ife described the laboratory as a stopgap for government, and researchers who can't afford to buy all the equipment required for their researches, adding that Omics Diagnostics Limited was built on integrity with the aim of helping research work.
"We learnt a lot during COVID-19 and Ebola. Ebola gave us the signal, but the COVID-19 pandemic shutdown the world. The essence of this is that government can't do it alone, so private sector have to come in to assist the government, and we shouldn't wait until there is a pandemic.
"The essence of this laboratory is to ensure that we can help the researchers, studies can be done, plans can be made ahead of time. Just like COVID-19 was discovered in China and they were able to prepare ahead of the world, the African world needs to start planning ahead so that when we have cases like this, we are prepared, we are not caught unawares and we are not stranded." She said.