By Onyeche Oloyode, Abuja
In a very colorful yet humbling atmosphere, Al-Habibiyyah Islamic society on Saturday crowned a winner for its National Adhan Day competition. The Adhan, is the Islamic call to prayers which heralds each of the five daily prayers for the Muslims.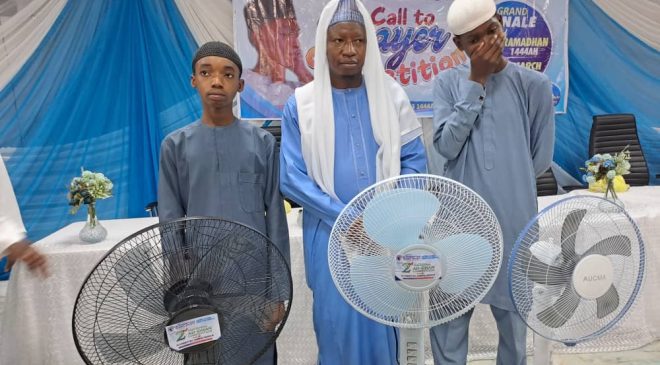 After taking auditions from 17 entrants over a two week period, training and helping them to perfect pronunciation, build their confidence Salman Ibrahim Imam was declared the winner by the panel of 5 judges.
The judges also named Faizal Ibrahim and Abdul fatah AbdulFatah the first and second runners up in the competition that assessed their pronunciation, confidence and tone.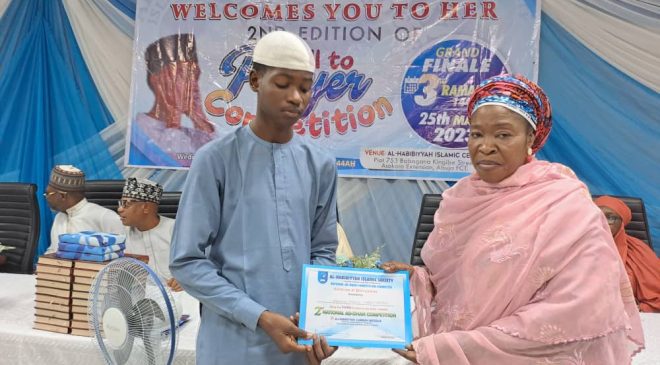 The winners got cash prices, copies of the Quran and standing fans; while the three winners also to perform the call to prayer in the Al-Habibiyyah Mosque in Abuja.
At the opening of the ceremony in Abuja, Gen Abbas Adekanye (rtd) said the competition was organized to increase the knowledge about the importance of the call to prayer and its importance in the discharge of the compulsory five daily prayers.
"the call to prayer is very important, it is the call that helps us to keep time for the prayers, it also helps to keep time for other activities. So it is important for us to keep encouraging others to participate in the call for prayers and also to do it the right way", he said.
Also welcoming participants to the programme, the Chief imam of Al-Habibiyyah Islamic Society, Imam Fuad Adeyemi said the idea behind holding the Adhan competition was to continue to expose and engage Muslims to the beauty of their religion.
"The adhan competition is designed to show case the varieties of activities in practice of Islam and also keep our children engaged and interested in the religion', he explained.
He added that the Adhan competition will subsequently hold in the month of Ramadhan as part of the Society's programmes in the month of Ramadan.
This is the second edition of the competition since it began in 2019.