West African Youth Parliament (WAYP) has decorated the Director General of the National Youth Service Corps, Brig Gen YD Ahmed as the African Youth Icon of the Year.
Speaker of the Parliament, Ambassador Olasunkanmi Kolawole while presenting a plaque and a special regalia to signify the honour said "Director General sir, this is in recognition of your track record of excellence in moulding Nigerian youth.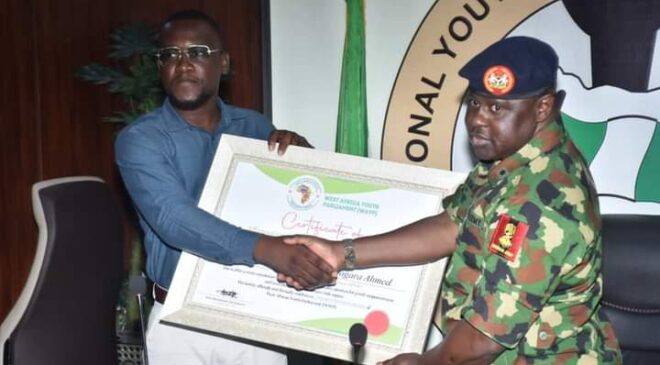 "This Parliament has been following your exploits in various institutions with keen interest, and has found you worthy of the prestigious award, owing to your numerous contributions to academic excellence at Nigerian Military School, Zaria and Nigerian Army Command Secondary Schools in Lagos and Enugu"
Ambassador Kolawole further said "the good job you have started in NYSC is also very commendable, and we pray that the Lord will give you wisdom to continue in that path"
He said that the African Youth Parliament also known as ECOWAS Youth Parliament is an organization that promotes unity, democracy and good governance in the West African sub-region.
In his response, the Director General of NYSC thanked the African Youth Parliament for the honour, which he said is not done to him alone but to the people he had worked with in different institutions across Nigeria.
The NYSC Chief Executive Officer equally said he felt highly elated that God has used him in making impact in the lives of many youths, most of whom are holding strategic positions in the society today.
Meanwhile,Brig Gen Ahmed has called on all and sundry to channel their intellect and resources towards youth development; added that this is the greatest investment a nation can make to ensure the safety of its future.
He reeled out his contributions to the nation's educational sector, which include pragmatic steps that changed the narrative concerning students' performance in examinations organized by West African Examination Council (WAEC).