The National Human Rights Commission (NHRC) has called on religious and traditional leaders to use their offices to ensure that eligible citizens actively participate in the 2023 general elections by encouraging them to collect their Permanent Voters Card (PVC) and cast their ballots.
The Executive Secretary of the Commission, Chief Tony Ojukwu OFR, SAN who made this call at the maiden monthly review meeting of Mobilizing Voters for Election (MOVE) project in Abuja noted that religious and traditional leaders, apart from encouraging people to vote could as well be advocate for a smooth and violent-free elections.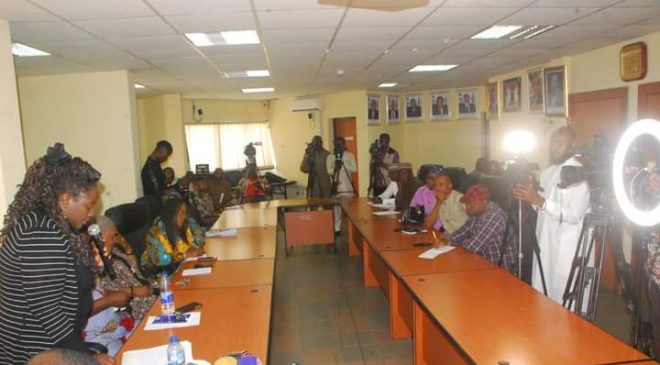 Ojukwu who was represented at the occasion by his Human Rights Adviser, Mr. Hilary Ogbonna recalled that violence, threat and fear are serious issues to address before the elections, saying that in a situation where staff and facilities of the Independent National Electoral Commission (INEC) are attacked severally across the country posed a dangerous signal.
He assured Nigerians that the Commission will continue to engage the INEC so as to ensure that eligible citizens have easy access to their PVCs, even as he disclosed that the electoral umpire has demonstrated the willingness to replace the PVCs that were destroyed by non -state actors during some of the said attacks, so that their owners will have access to them before the elections.
The NHRC Boss therefore called on the relevant security agencies to up their game to ensure that political rallies and campaigns are given maximum security and that the electoral climate is made safe and secure before, during and after the polls.
The Chief Human Rights Officer also used the occasion to renew the call from the Commission that the gruesome murder of a woman leader at the local government level in Kaduna state should be thoroughly investigated and possibly prosecuted to serve as a deterrent.
Meanwhile, the Senior Advocate of Nigeria regretted that despite the Commission's campaigns against hate speech and electoral violence, some citizens still indulged in such ugly practices, disclosing that in the last one month, the Commission has received 12 complaints targeted at presidential candidates, individuals, regional and tribal groups.
The next edition of the meeting will be held in January 2023 and thereafter subsequent editions continue up until March, 2023.