The Registrar-General/CEO of the Corporate Affairs Commission (CAC), Alhaji Garba Abubakar, has become a Fellow of the Institute of Chartered Secretaries and Administrators of Nigeria (ICSAN).
Alhaji Garba Abubakar was among six distinguished Nigerians conferred with Honorary Fellowship Awards by the institute at its 47th Annual Conference and Dinner, themed "Sound Governance as a Cursor to a Thriving Economy: A Case for Inclusiveness".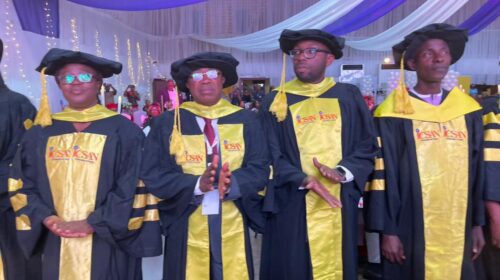 Conferring the award on them, the ICSAN President/Chairman of Council, Mrs. Funmi Ekundayo, FCIS, described their performance in governance as superlative and worthy of emulation.
Funmi Ekundayo, who stressed that ICSAN placed great emphasis on ethics and uprightness,congratulated the awardees on their professional accomplishments.
Ekundayo, who maintained that the feat represented the Zenith of professional membership, charged them not to view the achievement as the destination.
She said the award signified the beginning of a new chapter in their career, providing them the opportunity to learn, relearn, and unlearn through capacity-building programmes, amongst others.
In his remarks, the Lagos State Governor, Babajide Olusola Sanwo-Olu, congratulated the awardees on the achievements recorded in their respective fields of endeavour to enable them to make the list of wardees.
Sanwo-Olu, who was represented by the Secretary to the Lagos State Government, Bimbola Salu -hundeyin used the forum to congratulate Funmi Ekundayo for becoming the first female president of ICSAN since its inception 47 years ago.
Among several speakers at the event was former Minister of Communications Omobola Johnson, who stressed the need for more inclusiveness for women in accordance with the conference theme.
In his remarks, Senator Ishaku Elisha Abbo (representing Adamawa North Senatorial District) congratulated the awardees with special reference to the Registrar General, whom he described as a good friend.
Senator Abo stated the resolve of the National Assembly to support the programmes and policies of the present administration in the country in order to ensure a better and more prosperous Nigeria.
Responding on behalf of the honorary fellowship award recipients, Senator Margery Chuba Okadigbo thanked ICSAN for finding them worthy of the honours and pledged to justify the confidence reposed in them.
On his part, Alhaji Garba Abubakar, shortly after his induction as a fellow of ICSAN, pledged to rededicate himself to greater service.
It would be recalled that Alhaji Garba Abubakar has accomplished the full digitization of all CAC services, thereby becoming the only government agency with a full-pledged self-service portal.
Newest on the array of successes recorded by him is the launch of the Beneficial Ownership Register (BOR), which made history for becoming the first in Africa and is in line with global data standards.
CAC News reports that also on the list of the six distinguished recipients of ICSAN honorary fellowships are Ambassador Shuaibu Adamu Ahmed, Executive Secretary/CEO Financial Reporting Council (FRC) of Nigeria, and Professor Abubakar O. Sulaiman, Director General, National Institute for Legislative and Democratic Studies (NILDS).
Others are Engineer Etido Inyang and Mrs. Ekerebong Umoh.