By Olayode Abdurasaq
The NASRDA FC kept its good momentum under Captain Akeem Adewale who served as the coach in absence of Coach Joseph Yapshak in the last 'clasico' of the season.
The NASRDA 2-0 spanking of the Defence Space Administration FC thus ensures it's winning streak to end the year on winning note.
It was Zakari Ibrahim who thrived this time, scoring first to continue his great streak since the beginning of this year.
He opened the scoring with a close-range header off a corner kick crosed by John in the 39th minute of the encounter.
Isaac Ayodele Arowosegbe added to the lead with another fantastic header leaving the DSA keeper dumpfounded and sealed the victory.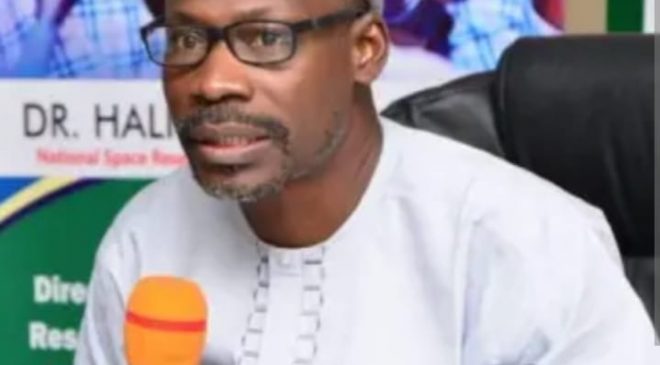 Recall, that it was Isaac who sealed the last year victory for NASRDA FC who won 2-1 on the DSA FC ground in 2021.
"If we have a minimum chance, we will keep fighting," zakari said. "We know it's going to be hard, but in soccer anything can happen."
"Of course, following the last game, we didn't expect this scoreline, but we did everything we intended to do from the start," Isaac said. "Everything went our way and we could have scored even more goals."
"The result says it all," NASRDA Striker Unekwu Baba said.
DSA FC also had several other significant scoring opportunities throughout the match, with 2 shots hitting the NASRDA pole, among other missed good chances.
Earlier, before the match,Dr David Jeb, Director Geoapp plus Representating the DG of NASRDA, Dr. Halilu Ahmed Shaba, encouraged the players to ensure they play safe.
He appreciated the support of the DG not only in Football but in all other areas of Sports that has to do with keeping fit for efficient and effective work output
He also promise to continue to throw his weight behind NASRDA sports.
Also speaking, prepresenting the Director of Sports, Defence Space Administration, admonished all the teams to play with caution and ensure they see each other as friends instead of enemies in a war front.
It was a memorable and entertaining friendly, the supporters clubs chanting and singing in a friendly manner, the game has become a tradition of a football competition during the Yuletide season.
No doubt Friendly matches couple with the Federal annual Sporting activities like RIGAN and FEPSGA will provide recreation, interaction, promote friendliness among members of the various Institutes, to achieve sound mind and physical fitness required for attaining the goals set for Research and Development Institutes.
OTHER RECENT RESULTS
1. NASRDA fc VS RAW MATERIALS RESEARCH & DEVELOPMENT COUNCIL ended 2:1 in favour of Nasrda fc
NASRDA FC VS REVIVAL FC ended 2 :1 in favour of Nasrda fc
Several other matches were played most of which were in NASRDA favour with a few exceptions.