The founder of National Youth Service Corps and former Head of State, General Yakubu Gowon has expressed optimism that the proposed NYSC Trust Fund bill would soon receive Presidential Assent.
He said the trust fund would make funds available for Corps entrepreneurs to establish their businesses, improve the standard of facilities at the Orientation Camps, enhance further trainings in Skill Acquisition and Entrepreneurship Development programme among other benefits.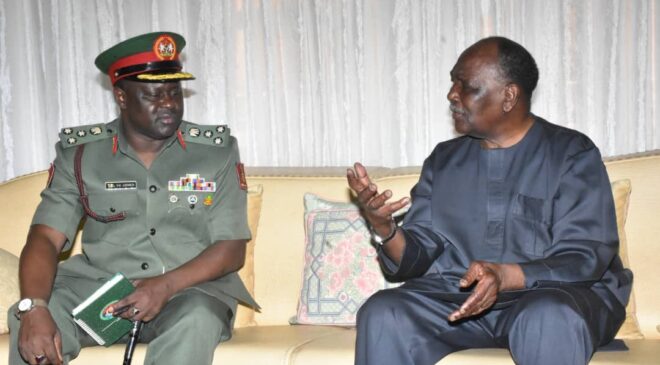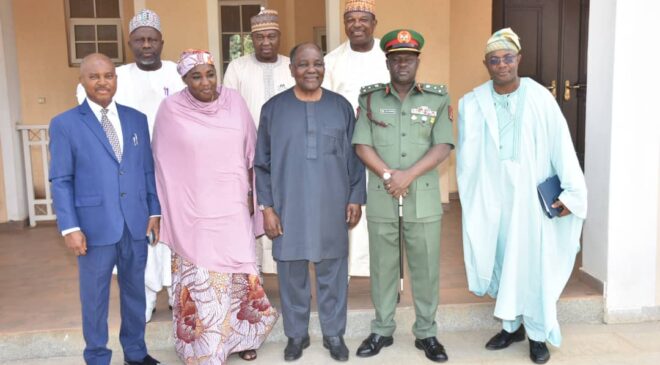 General Gowon stated this today when the Director General of NYSC, Brigadier General Yusha'u Dogara Ahmed led some management staff of the Scheme to pay him a courtesy visit at his residence in Abuja.
The former Head of State urged General YD Ahmed to use his wealth of experiences to take the Scheme to greater heights.
Gowon while congratulating the Director General on his appointment as the twenty-second Chief Executive of the Scheme, urged him to adopt an all-inclusive style of leadership.
"All the managers of the Scheme since inception have done exceptionally well.
"You have a good team to work with, strive and work in order to leave good legacies", Gowon said.
In his response,Brigadier General Yusha'u Dogara Ahmed said he came to pay homage to General Gowon, promised that he would build on the legacies of the founding fathers of the Scheme.